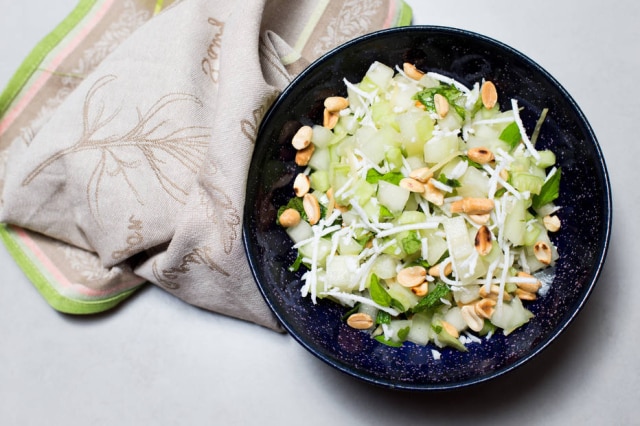 Asian Watermelon, Cucumber and Ginger Salad Photo: Tiago Queiroz/Estadão
I fell in love with this salad I got in it Abdominal Pain Changes, by Diana Henry (not available in Portugal), a book that shows the best-selling English author's conversion to light and fresh food. Delicious, refreshing and easy to make, it's a great idea for a party Women's day.
The combination of melon, ginger and cucumber is inspired by a traditional recipe from Miami (ancient Burma), whose taste and flavor are enhanced by fish sauce, salty and complex ingredients made with fermented fish, important to Asian cuisine and this takes. in the world. It's easy to find in Asian grocery stores, inexpensive, and you'll find more ways to use it. I bet Oh, leave the salad in the fridge. Before serving, mix in grated coconut, fresh herbs and roasted peanuts.
Plan
1Mix watermelon and cucumber cubes in a large bowl. Add fish sauce and lemon juice and turn and keep aside.
twoHeat the sesame oil in a pan and fry the onion until it becomes dry. Add ginger and cook for a minute. Remove from heat, let cool and mix with salad.
3Cover the bowl with plastic wrap and refrigerate until serving time.
4Remove from the fridge, sprinkle peanuts, fresh herbs and coconut on top and serve immediately.