Shrimp, tahini, grilled pineapple, grain mustard, tuna and zucchini carpaccio are among the creations of Cleuza Costa, Joelma Celestrini and Juarez Campos
With light, fresh and different colors, textures and aromas, salads are a good choice for hot days. Although they are consumed throughout the year, it is during the summer that the combination of vegetables, vegetables, cheese, fruits and oils, with or without meat, gets the highest position on the table, providing delicious food in the middle of hot weather.
To refresh ideas for lunch or dinner, we bring you four interesting recipes from chefs Cleuza Costa (Quintal 84), Juarez Campos (Oriundi) and Joelma Celestrini. With tuna and shrimp or vegetarian, they can't resist. Choose yours, share the tools and be amazed.
REFRESHING SALAD, by Joelma Celestrini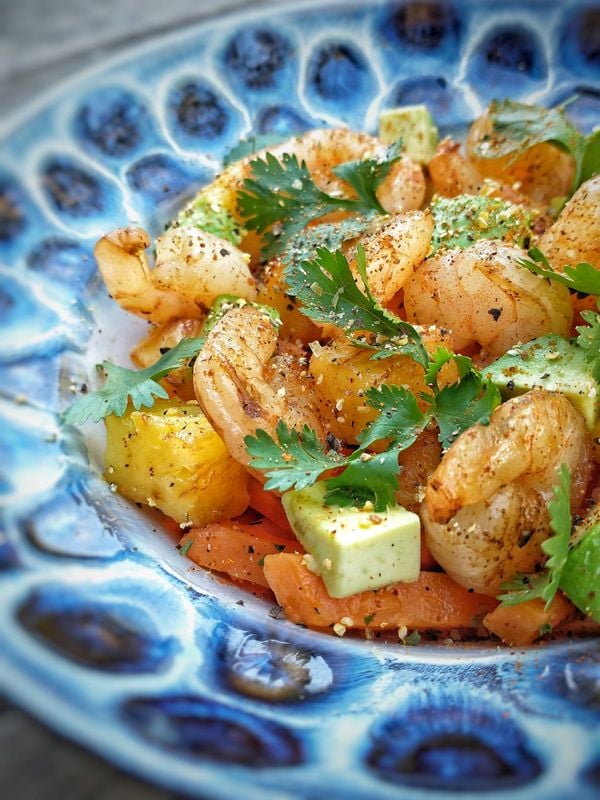 GOOD THINGS (4 times):
300 g potatoes, diced and cooked al dente
1 avocado cut into cubes
3 slices of pineapple, cut into cubes
300g medium or large shrimp, peeled, cleaned and seasoned with salt
half a bunch of coriander
Half a lemon (juice only)
1 small garlic onion
1/4 cup olive oil
Salt and cayenne pepper to taste
In a blender, prepare the salad dressing by adding olive oil, half the cilantro, garlic and lemon juice. Beat until smooth and set aside.

In a hot pot with a drizzle of olive oil, roast the pineapple chunks until caramelized. Reserve

In the same pan and still in hot temperature, cook the shrimp until they are brown, crispy and soft. Reserve


In a bowl, combine all the ingredients, mix carefully and place on a plate.

Finish with a little sauce and the rest of the coriander leaves.

Sprinkle with cayenne pepper and salt and serve well, on greens or over cooked quinoa.

WHITE BEANS, TUNA AND ONION SALAD OVER zucchini carpaccio, by Juarez Campos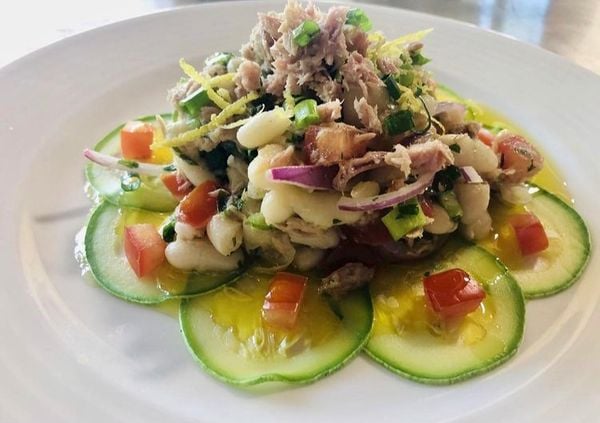 GOOD THINGS (4 times):
250g boiled and split white beans
1 can of tuna in oil
1 medium red onion cut in half months
2 large stalks of celery, finely chopped
1 tablespoon of chopped parsley
1 tablespoon chopped green onion
2 spoons of lemon juice
Sicilian lemon zest (fruit zest)
2 chopped seedless tomatoes
2 green zucchini
½ cup extra virgin olive oil
Salt and black pepper to taste
Cut zucchini into thin slices and boil in salted water for 1 minute. Cool in ice water, drain and dry in a bowl.

Mix in the beans, split tuna, red onion, celery, parsley, chives and tomatoes.

Add lemon juice, olive oil, salt and pepper.
Assembly: arrange zucchini slices on four plates. Divide the salad in half and finish with a sprinkle of Sicilian lemon zest.
CUCUMBER AND YOGURT SALAD, by Joelma Celestrini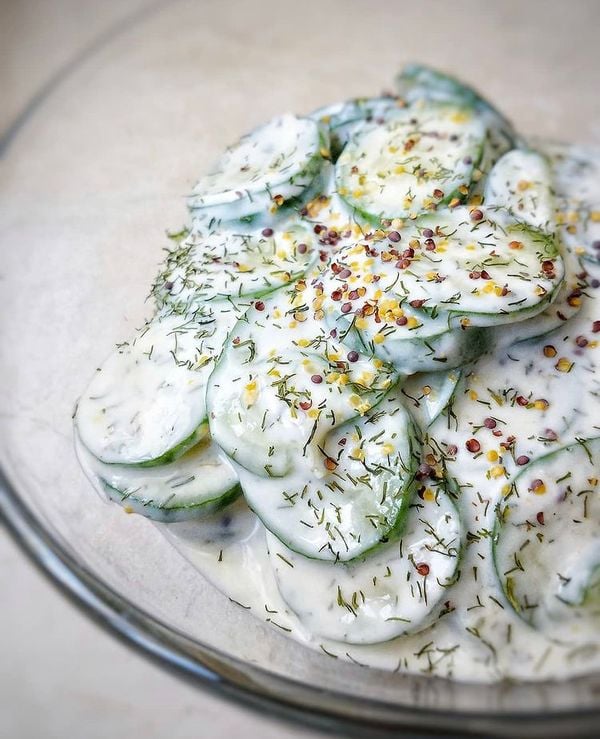 GOOD THINGS (4 times):
2 large cucumbers (preferably Japanese or seed) cut into cubes, slices or sticks (can be grated as well, as you prefer)
1 lemon juice
1 tablespoon (sweet) crushed grain mustard
½ cup yogurt (plain or Greek)
1/4 cup tahini (sesame paste)
Dill leaves for topping (optional)
Salt and black pepper to taste
In a bowl, put the cut cucumber, lemon juice and a teaspoon of salt. Let it rest for half an hour.

In another container, mix yogurt with tahini until it becomes a homogeneous paste. If it is thick, add water a little at a time until you get a thick and smooth cream like mayonnaise.

Mix the yogurt and tahini paste with the cucumber, remember not to throw away the juice produced by the cucumbers, salt and lemon (this will season the salad).

Adjust salt and pepper.

Top the salad with crushed mustard seeds and garnish with dill leaves.

Tip: Mustard can be replaced with sesame.
LIGHT SALAD WITH LEMON, HONEY AND CINNAMON VINEGAR, by Cleuza Costa
GOOD THINGS (4 times):
Half a head of romaine lettuce
Half a head of purple lettuce
1 Portuguese pear, thinly sliced
100 g brie cheese, cut into cubes
1 small carrot, cut diagonally
1 small zucchini, cut diagonally
1 stick of pupunha heart of palm, cut into cubes
100 g cherry tomatoes, half
50 g French beans (or peas)
50 g of various vegetables
Juice of 1 lemon
Cinnamon powder
honey
Clean the leaves and dry them.

Arrange the greens in a salad bowl and top with tomatoes, brie cheese and crushed chestnuts. Reserve

Heat the grill or grill and add the vegetables and the Portuguese pear, without adding oil.

For the vinaigrette, mix lemon juice, 1 pinch of salt, 1 cinnamon stick, 90 ml olive oil and a small spoonful of honey. Mix well and toss the salad.

This video may interest you
Do you see any errors?


Talk to the Editor

Have you noticed any incorrect information in the content of A Gazeta? Help us fix it ASAP! Click the button on the side and send your message.
Send your suggestions, comments or criticism directly to the editors of A Gazeta.
Sign in to receive exclusive content.
Reset Password
Fill in the field below with your email.
Gazeta wants to send an alert about the big news from Espirito Santo.