Salad it can be much more than a combination of three lettuce leaves and a few slices of tomato. When the recipe is a pot of textures and colors provided by herbs, vegetables, grains, protein, cheese and bread, the recipe overcomes the reputation of poor food and elevates the status of a great dish. Many addresses in the capital city of São Paulo invest in a good joint, served in a bowl. Next, look at the options.
An organic green salad with a tangy, tomato, mango and shrimp honey vinaigrette from Cuia Café. Photo: Raphael Criscuolo
Mixed line
Launched last month, Hi Pokee members' salad delivery is operated exclusively by Rappi and offers a selection of recipes prepared by chef Ravi Leite. Cobb salad, with greens, avocado, pork, corn, chicken, red onion, boiled egg, crouton, cherry tomatoes, gorgonzola and balsamic dressing (R$ 36) and nicoise, with greens, cherry tomatoes, olives, pea cake , red onion, avocado, boiled egg, basil, tuna confit and vinaigrette (R$42), are some of the options on the menu. It is also possible to order a bespoke salad (from R$ 36). 3819-3394. 11:30 am / 3:45 pm and 6:30 pm / 10:30 pm (Saturday and Sunday 11:30 am / 5 pm and 6:30 pm / 10:30 pm). Delivered by Rappi
Olga laughed
Salads in the best full-fledged dining style are the supporters of the startup, which has five kitchens (they work behind closed doors and only deliver) in the capital of São Paulo. The menu includes recommendations based on ingredients from small manufacturers – some of them natural and of agroecological origin. Mediterranean burrata salad, with mixed greens, whole fusilli, sweet grape tomatoes, black olives, almonds and burrata (R$ 45.90, large) and bok choy tuna bowl, with mixed grains, tuna, avocado. , sweet grape tomatoes, cucumber made with ginger, wakame, bok choy and sweet and sour kashi sauce (R$53.90), are some of the options. 2337-6066. 10 am / 3 pm and 6 pm / 10 pm (Saturday and Sunday 11 am / 4 pm and 6 pm / 10 pm). Delivery via website and app, iFood, Rappi and UberEats.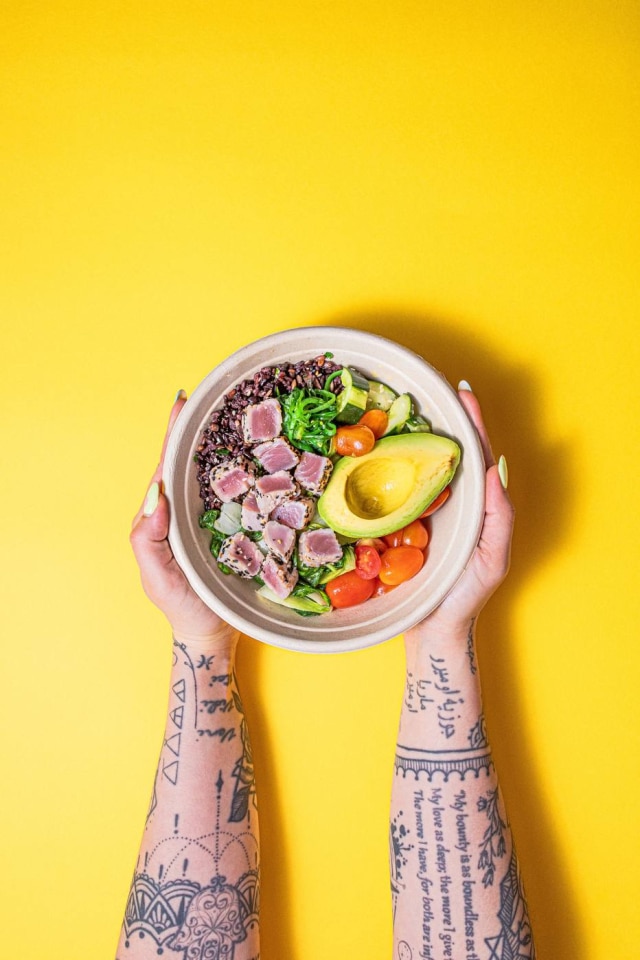 Seared tuna bowl with bok choy, mixed grains and avocado, by Olga Ri. Photo: Helena Mazza
hatch
Chef Ana Soares' brand, from bakery and rotisserie Mesa III, focuses on ready-to-go meals. Dishes, in the best style of comfort food, complete the menu, which also allows for salads. The recommendations, which are usually published on Instagram @mesa3_portinhola, vary from week to week. And one of the options is the grain salad, based on greens, lentils, pearl barley, hummus and beetroot pickles, finished with crusty bread (R$ 25). R. Marco Aurélio, 154, Vila Romana. 96636-7595. 11:30am/3:00pm (closed Saturday and Sunday.) Delivery by Goomer and iFood.
Cafe Pain
Under the direction of chef Bel Coelho, the space that combines bar, cafe and restaurant, installed in the Megafauna bookstore, offers a menu that gathers recommendations full of Brazilians. One of them, used in gourd, is a salad made on organic vegetables and is mixed with tomatoes, mangoes and onions. Topped with jataí honey vinaigrette, the salad still has a mild flavor (R$ 24). Av. Ipiranga, 200, store 48, República. 93100-7700. 10am / 10pm (Sunday 10am / 6pm closed Monday). Delivered by Rappi.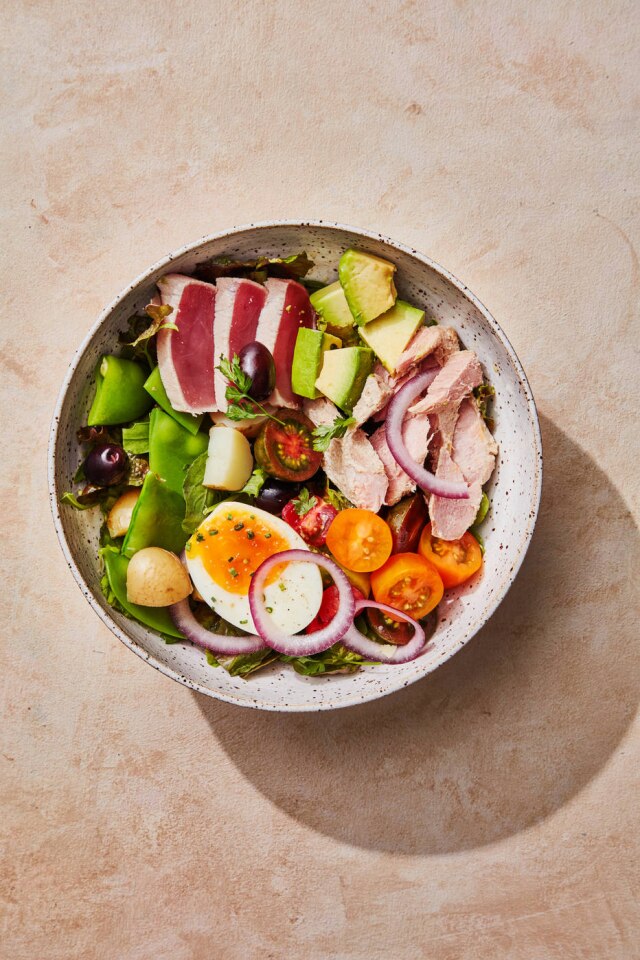 Nicoise of the Mixed Line. Photo: Roberto Seba/Estudio Central
rascal
The restaurant chain, which has a kitchen under the direction of chef Nadia Pizzo, offers both in the living room and in delivery a selection of salad bowls, among which is a tuna bowl, made of slices of fish covered with sesame , a mixture of herbs. , quinoa with carrot and date peach, boiled egg, avocado, Greek salad, buffalo mozzarella and oriental sauce (R$ 74.90). Another option is the Italian bowl, which combines rotelle pasta with pesto sauce, arugula, parma ham, buffalo mozzarella, oregano, tomatoes, zucchini, grilled eggplant and more pesto sauce (R$ 69.90). R. Leopoldo Couto de Magalhães Júnior, 831, Itaim Bibi. 3078-3351. 12:00 pm / 3:30 pm and 7:00 pm / 10:00 pm (Saturday and Sunday. 12:00 pm / 5:00 pm and 7:00 pm / 10:00 am west). Delivered by iFood.
Matilda's Dinner
Although it is best known for its sandwiches, the snack bar under the direction of chef Renata Vanzetto has a salad recommendation on the menu: a main dish salad with shiitake. As for the beef, the salad combines vegetables such as coriander and watercress, as well as citrus sauce with pepper jelly, fat corn and shiitake with sweet and sour sauce (from R$ 33). R. Mateus Grou, 31, Pinheiros. 12pm / 3pm and 6pm/11pm (Fri and Sat 12pm/11pm. Sun. 12pm/10pm). Delivered by iFood.